"Eldöntöttük, már jóval a forgatás előtt, hogy  ragaszkodni fogunk egyfajta dogmához: a filmnek nem szabad szépnek lennie, a film nem lehet tetszetős, nem készíthetünk horror filmet...Saul nézőpontjánál maradni egyet jelent azzal, hogy nem lépünk túl az ő látóterén vagy azon, amit ő hall, a jelenlétén...a kamera az útitársa és vele marad mindvégig ebben a pokolban" (Nemes Jeles László)
Hivatalos Cannes interjú angolul Nemes Lászlóval, készítette: Antoine de Baecque.
SZÖVEGÉRTÉS FELADAT: Az interjú elolvasása után állapítsd meg, hogy a szöveg végén található állítások igazak (TRUE) vagy hamisak (FALSE).
A segítő

Auschwitz+Movie Making

szószedetet szintén a szöveg végén találod.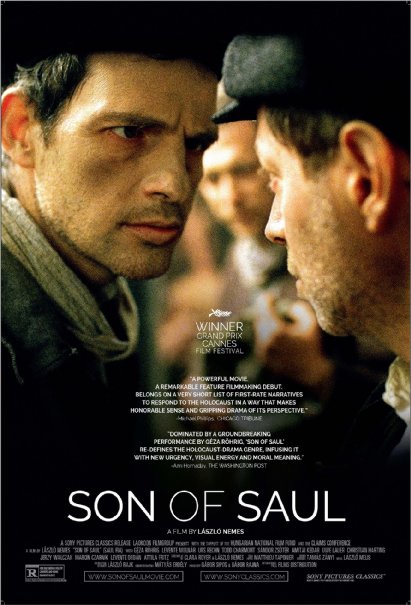 Auschwitz

&

Movie Glossary
to make a film= filmet készíteni
shoot, shooting= forgatás
was interrupted= félbeszakították/-tuk
eyewitness accounts= szemtanú beszámolók

ashes= hamvak

scrolls= kézirattekercsek
extermination camp= haláltábor

to bury= eltemet

testimony=tanúságtétel, tanúvallomás
rebellion= lázadás

jews= zsidók

exterminate= kiirt, kivégez, megsemmisít

resistance= ellenállás

prisoners= elítéltek

gas chamber= gázkamra

undress= levetkőzik

remove= eltávolít

burn= eléget

corpses= holttestek

prisoner convoys= rabszállítmány

factory= gyár

eliminating= felszámol, megsemmisít

on an industrial scale= ipari méretekben/volumenben
were assassinated= gyilkosság áldozatául estek, merényletet követtek el ellenük

preferential treatment= megkülönböztetett bánásmódban részesültek

were allowed to= engedélyezett volt számukra

transports= szállítmányok

freedom of movement= szabad mozgás

witnesses= szemtanúk

evil= gonoszság, gaztett, bűn
movies= filmek
survival= megmenekülés, túlélés

heroism= hősiesség

death factory= halálgyár

rules= szabályok

work cadences= munkaritmus

productivity= eredményesség, termelékenység

were produced= gyártották őket

the extermination camps' damned= a haláltábor elátkozottjai
a fictional story= kitalált történet, fikció
hero= hős

survivor's point of view= túlélő nézőpontja
pared down= leszűkítve, lefaragva

subjective stance= sze

mélyes/szubjektív álláspont/nézőpont
approach= megközelítés

artificial= mű, nem igazi, csinált
needed to be avoided= kerülni kellett

victims= áldozatok

save= megment

ovens= kemencék

rabbi= rabbi

character= szereplő, karakter
veritable historian's= valóságos törté

nészi
co-screenwriter= társ forgatókönyvíró
was assigned to= egy feladattal meg volt bízva, egy helyre ki volt jelölve

crematoriums= krematóriumok

were dying= haldokoltak

traces= nyomok, maradványok
occurred= (meg)történt

death= halál

the horror= a borzalom

relegated sg to the background= háttérbe szorítani valamit

blurred= elhomályosítva, elmosódottan
off screen= filmvásznon kívül

to

film= filmez, filmre vesz
cinematographer= operatőr

production designer=látványtervező, díszlettervező

appealing= tetszetős, attraktív

presence= jelenlét

photochemical processing= fotokémiai kidolgozás/eljárás/feldolgozás/

lighting technique= világítástechnika

diffused= diffúz, szétszórt
lens= lencse

restricted aspect ratio= behatárolt képarány/méretarány

scope= szkóp, képcső, objektív
Eastern front= keleti font

in an organic manner= szerves módon, szervesen
hellish adventures= pokoli kalandok

appears out of nowhere= a semmiből tűnik fel

short film= kisfilm, rövidfilm

the audience= a közönség

specific= pontos, meghatározott, bizonyos

look a SS in the eye=SS tiszt szemébe nézni

contradictory= ellentmondásos
submission= alárendeltség, engedelmeskedés, behódolás

renouncement=(passzív) ellenállás, engedelmesség megtagadása, lemondás

in snatches= részletekben, darabokban, töredékekben

piecing together the fragments= összerakni a részleteket
strictly forbidden= szigorúan tilos

piled-up= felhalmoz, halmokba rak
attest to= bizonyságot tesz valami mellett, bizonyít

face with death= szembenéz a halállal
integrate= integrál, ötvöz

plays an important role = fontos szerepet játszik
sound designer=

hangmérnök
multidimensional= többdimenziós
intermingling= összefolyi

k, összefonódik
superimpose over the image=egymásra filmez képeket
layers of sound= hangsávok, hangrétegek
polish

=feljavít, csiszol, "kozmetikáz"
poet= költő
in constant motion= állandó mozgásban
facial features= arcvonások
ordinary and remarkable= hétköznapi és különleges
quick-witted= gyorseszű, gyors felfogású, eszes
rite= rituálé, szertartás
bears meaning= jelentéssel/tartalommal bír